Audrey Magazine:
A drone is an aerial vehicle which can fly around without a human pilot aboard. Instead, this aircraft is guided remotely. Now I don't know about you, but nothing about remote airplanes scream "romantic" to me. Well, it seems Zhang Ziyi's boyfriend Wang Feng intends to change that.
Zhang Ziyi, the Chinese actress most known for her roles in Crouching Tiger, Hidden Dragon (2000), House of Flying Daggers (2004) and Memoirs of a Geisha (2005), just celebrated her 36th birthday. Her boyfriend Wang Feng, a Chinese rock musician, decided that she needed much more than a rainbow cake to celebrate her birthday.
Pictures have made it onto the internet showing a small, white drone flying towards the couple. Wang Feng apparently reached into the basket hanging from the drone and pulled out a diamond ring before getting down on one knee and asking for Zhang Ziyi's hand in marriage.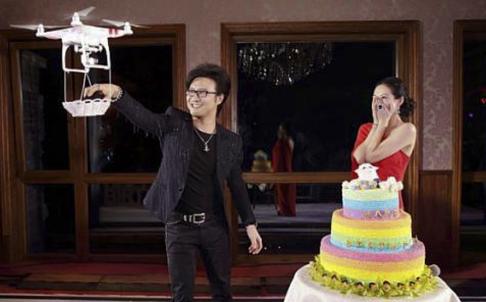 According to Chinese media, Wang made a promise to take care of Zhang even in old age. The two then embraced and kissed as fireworks lit the sky.
On Sunday, Zhang shared a picture of heart-shaped fireworks on her Sina Weibo microblog account along with the caption, "I do!"
Wang followed this up by posting a few words on his own microblog. "Thanks for giving me a perfect life — all hardships are already in the past," he posted on Sunday. "From here on out, we'll grow old hand-in-hand."
Needless to say, fans are delighted with the extravagant proposal. Even after seeing our fair share of unique marriage proposals, a drone proposal is still a rare sight. So tell us. Is a ring-bearing drone cute or way too over the top?